Practical Things to Note about Soiling in Dover Homes from Fire Damage
9/14/2022 (Permalink)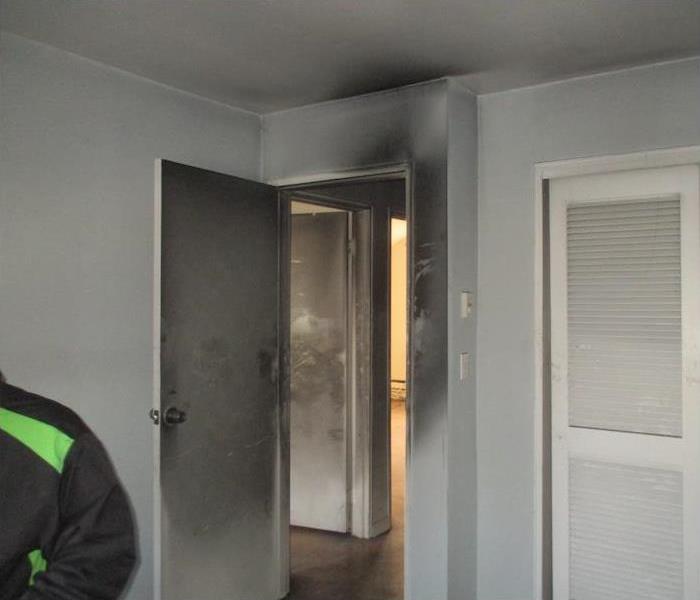 When a fire occurs in your Dover home, don't hesitate to call SERVPRO. We are trained and experienced in all phases of fire damage restoration.
SERVPRO Offers Guidance and Assistance in Dover to Facilitate Fire Restoration
After a property disaster, many thoughts may run through your mind. The physical damage to valuables and structural elements is usually the primary concern, especially after fire incidents, since the heat and flames consume materials. Such incidents also leave Dover properties heavily soiled. Therefore, when preparing to address the damage, you should have a solid plan to tackle the soiling it causes.
Some of the things you notice in your Dover property after fire damage may not paint a clear picture. For instance, if the incident seems minor and is restricted to one area, such as the bathroom, you might assume every aspect of restoration needed, including the cleaning process, would be easy. However, an experienced team like SERVPRO understands that surface evaluation can be deceiving when dealing with fire.
The combustion process has many byproducts, and most soil various materials, whether fabrics, wood, stone, and plastic, in many ways. Ash, dry soot, and wet smoke residues are the most common results. Quelling the fire also contributes to soiling since it introduces water or fire-retardant chemicals within the house. The water readily dilutes residues driving them deeper into materials or causing staining in fabrics.
Some important things to note:
A small fire does not always leave minimal soot
Soot is not a homogeneous residue
Fire intensity influences the physical condition of soils
The amount or quality of residues you have to remove from your property depends on what transpires during combustion rather than how far the flames spread. If the blaze is scorching, it consumes materials almost entirely, thus leaving minimal deposits. Residues also tend to be fine. On the other hand, a smoldering fire only manages partial combustion, thus leaving significant wet residues.
Synthetic and Organic Residues
Fire residues can be simply described as a mass of black or gray deposits embedded or accumulating on surfaces. From this perspective, cleanup is expected to be straightforward, wiping off residues from surfaces. In reality, fire residues greatly vary, which affects the ease of cleaning. One of the factors with the most significant impact is whether the materials burnt are organic or synthetic. Organic material is a naturally occurring substance such as wood or cotton fiber, while synthetics are artificial and include plastics.
Qualities of soot from organic sources:
Fine and powdery
Less pungent
Dry and easy to clean
The cleaning challenge is significant if the soiling left in your house by fire comes from synthetic materials. Such deposits tend to adhere to surfaces. Alternatively, the residues can be wet and smeary. Our SERVPRO technicians use distinct approaches to deal with soling from such residues. In the case of upholstery or fabrics, we use the salvage cleaning technique using 1 percent chlorine solution bleach. For structural materials such as wood, highly abrasive methods such as sanding or blast cleaning help strip off the stubborn layers of residue accumulating on the surfaces. For china and crystal, especially in kitchenware, the acidic properties of wet smoke residues can cause etching. Timely cleaning is the best solution to such an outcome. A method like ultrasonic cleaning helps remove the fire residues fast and effectively.
SERVPRO of Dover / Stillwater has years of experience and is well prepared to handle any aspect of fire damage at your property, making it "Like it never even happened." Call us at (973) 810-2825.